The woman behind the New Deal : the life of Frances Perkins, FDR's Secretary of Labor and his moral conscience / Kirstin Downey.
Publication | Library Call Number: HD8073.P38 D69 2009
Frances Perkins is no longer a household name, yet she was one of the most influential women of the twentieth century. Frances Perkins was named Secretary of Labor by Franklin Roosevelt in 1933. As the first female cabinet secretary, at the height of the Great Depression, she spearheaded the fight to improve the lives of America's working people while juggling her own family responsibilities. Perkins's ideas became the cornerstones of the most important social welfare legislation in the nation's history, including unemployment compensation, child labor laws, the forty-hour work week, and Social Security. Also, as head of the Immigration Service, she fought to bring European refugees to safety. Based on eight years of research, extensive archival materials, new documents, and exclusive access to family and friends, this is the first complete portrait of a devoted public servant with a passionate personal life, a mother who changed the landscape of American business and society.--From publisher description.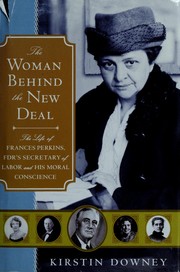 Format

Book

Author/Creator

Downey, Kirstin.

Published

New York : Nan A. Talese/Doubleday, ©2009

Locale

United States

Language
Record last modified: 2018-05-09 13:48:00
This page: https://collections.ushmm.org/search/catalog/bib245624