The face of the nation : immigration, the state, and the national identity / Keith Fitzgerald.
Publication | Library Call Number: JV6483 .F58 1996
This innovative work provides both a historical account of the crazy-quilt of legislation dealing with immigration that Congress has passed over the years and a theoretical explanation, building on the "new institutionalism," of how these laws came to be passed. The author shows why immigration is a uniquely revealing policy arena in which a polity chooses what it will be, a collective decision that shapes a nation's identity and defines itself. The book focuses on three aspects of immigration policy: the regulation of admission to the United States for permanent residency, the regulation of admission of people fleeing political repression, and the efforts to cope with the flow of unsanctioned migrants across the U.S.-Mexico border. It identifies the most puzzling features of contemporary immigration policy, asking, Where do these policies come from? Why do they have their special characteristics? The author seeks the answers in modern theories of public policy formation, especially the currently popular new institutionalism. He offers an enhanced version of this approach, which he calls "improvisational institutionalism," and applies it to the paradoxes of immigration policy.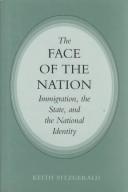 Format

Book

Author/Creator

Fitzgerald, Keith A., 1956-

Published

Stanford, Calif. : Stanford University Press, 1996

Locale

United States

Language

External Link
Record last modified: 2018-05-10 16:44:00
This page: https://collections.ushmm.org/search/catalog/bib247895