Hitler's cross : how the cross was used to promote the Nazi agenda / Erwin W. Lutzer ; foreword by Ravi Zacharias.
Publication | Library Call Number: DD256.7 .L87 2016
"Deine Reich komme," Hitler prayed publicly--"Thy Kingdom come." But to whose kingdom was he referring? When Germany truly needed a savior, Adolf Hitler falsely stepped in. He directed his countrymen to a cross, but he bent and hammered the true cross into a horrific substitute: a swastika. Where was the church through all of this? With a few exceptions, the German church looked away while Hitler inflicted his final solution upon the Jews. Hitler's Cross is a chilling historical account of what happens when evil meets a silent, shrinking church, and an intriguing and convicting exposé of modern America's own hidden crosses.--Page 4 of cover.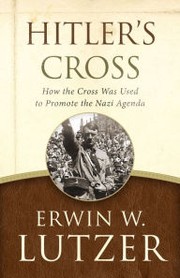 Format

Book

Author/Creator

Lutzer, Erwin W., author.

Published

Chicago : Moody Publishers, [2016]
©2016

Locale

Germany
United States

Language
Record last modified: 2016-05-12 14:58:00
This page: https://collections.ushmm.org/search/catalog/bib250490