The sultan's Jew : Morocco and the Sephardi world / Daniel J. Schroeter.
Publication | Library Call Number: DS135.M8 S37 2002
"This study uses the extraordinary life of Meir Macnin, a prosperous Jewish merchant, as a lens for examining the Jewish community of Morocco and its relationship to the Sephardi world in the late eighteenth and early nineteenth centuries. Macnin, a member of one of the most prominent Jewish families in Marrakesh, became the most important merchant for the sultans who ruled Morocco, and was their chief intermediary between Morocco and Europe. He lived in London for about twenty years, and then shuttled between Morocco and England for fifteen years until his death in 1835." "This book challenges accepted views of Muslim-Jewish relations by emphasizing the ambivalence in the relationship. It shows how elite Jews maneuvered themselves into important positions in the Moroccan state by linking themselves to politically powerful Muslims and by establishing key positions in networks of trade. The elite Jews of Morocco were also part of a wider Sephardi world that transcended national boundaries. However, Macnin remained more connected to Morocco, where Jews were, according to Islamic law, proteges of the ruler and still subject to specific legal disabilities. The early-nineteenth-century sultan Mawlay Sulayman confined Jews in a number of Moroccan cities to newly created Jewish quarters as part of a policy of defining boundaries between Muslims and Jews. Yet Macnin remained closely tied to royal power, and in 1822 he became the principal intermediary between Morocco and the European powers for Mawlay Sulayman's successor, Mawlay Abd al-Rahman."--Jacket.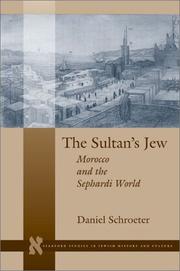 Series

Stanford studies in Jewish history and culture
Stanford studies in Jewish history and culture.

Format

Book

Author/Creator

Schroeter, Daniel J.

Published

Stanford, Calif. : Stanford University Press, ©2002

Locale

Morocco
Essaouira
Essaouira (Morocco)

Language
Record last modified: 2018-05-10 16:44:00
This page: https://collections.ushmm.org/search/catalog/bib254987