Darwin's spectre : evolutionary biology in the modern world / Michael R. Rose.
Publication | Library Call Number: QH371 .R683 1998
"In Darwin's Spectre, Michael Rose provides the general reader with an introduction to the theory of evolution: its beginning with Darwin, its key concepts, and how it may affect us in the future. First comes a brief biographical sketch of Darwin. Next, Rose gives a primer on the three most important concepts in evolutionary theory - variation, selection, and adaptation. With a firm grasp of these concepts, the reader is ready to look at modern applications of evolutionary theory." "Darwin's Spectre explains how evolutionary biology has been used to support both valuable applied research, particularly in agriculture, and truly frightening objectives, such as Nazi eugenics. Darwin's legacy has been a comfort and a scourge. But it has never been irrelevant."--Jacket.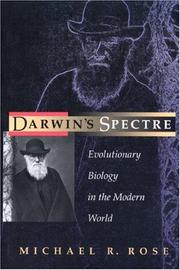 Format

Book

Author/Creator

Rose, Michael R. (Michael Robertson), 1955-

Published

Princeton, N.J. : Princeton University Press, c1998

Language

External Link
Record last modified: 2018-05-10 16:44:00
This page: https://collections.ushmm.org/search/catalog/bib258338