From the ashes : May 1945 and after / by Eleanor H. Ayer and Stephen D. Chicoine.
Publication | Library Call Number: D804.34 .H652 1998 v. 6
Discusses the fate of those Jews who survived annihilation by the Nazis: their further persecution, search for a homeland in Palestine, and hunt for war criminals. Also examines other cases of genocide in Bosnia, Rwanda, and elsewhere.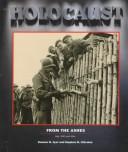 Series

Holocaust ; bk. 6
Holocaust (Woodbridge, Conn.) ; bk. 6.

Format

Book

Author/Creator

Ayer, Eleanor H.

Published

Woodbridge, Conn. : Blackbirch Press, c1998

Locale

Europe

Language

Edition

1st ed
Record last modified: 2008-08-13 16:39:00
This page: https://collections.ushmm.org/search/catalog/bib26526