Boychiks in the hood : travels in the Hasidic underground / Robert Eisenberg.
Publication | Library Call Number: BM198.4.U6 E37 1996
Boychiks in the Hood is your passport to the Hasidic "underworld" - a destination far different from popular expectations. When Robert Eisenberg, a secular Jew from Omaha, Nebraska, decided to investigate his family's distant Satmar connections, he unknowingly embarked on a journey that would carry him around the world and into the hearts and lives of the Hasidim.
Armed with a loving curiosity and the Yiddish his grandmother taught him as a child, Eisenberg found himself intimately drawn into the sometimes nutty, often inspiring, lives of these most traditional of Jews. Join Eisenberg as he hangs out with an ex-Deadhead in Antwerp, makes a pilgrimage to the grave of the revered Rebbe Nachman in the Ukraine, munches mini-bagels with Roller-blading kosher butchers in Minnesota, talks about sex with a karate champion turned rabbi in Israel, and more.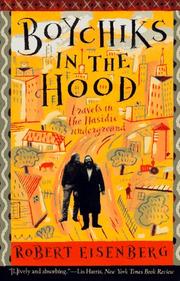 Format

Book

Author/Creator

Eisenberg, Robert.

Published

[San Francisco, CA] : HarperSanFrancisco, 1996

Locale

United States

Language

Edition

1st HarperCollins pbk. ed
Record last modified: 2019-01-10 10:54:00
This page: https://collections.ushmm.org/search/catalog/bib268905