Talk fiction : literature and the talk explosion / Irene Kacandes.
Publication | Library Call Number: PN3503 .K33 2001
Kacandes reads contemporary fiction as a form of conversation and as part of the larger conversation that is modern culture. Within a framework of talk as interaction, Kacandes considers texts that can be classified as "statements," that is, texts that wholly or in part ask for their readers to react to them in certain ways. The works she addresses -- from writers such as Harriet Wilson, Margaret Atwood, William Faulkner, Virginia Woolf, Graham Swift, Gunter Grass, John Barth, Julio Cortazar, and Italo Calvino -- conduct their interactions in certain modes to accomplish different sorts of cultural work: storytelling, testimony, apostrophe, and interactivity. By focusing on texts within these groupings, Kacandes relates the different modes of talk fiction to extraliterary cultural developments in our oral age.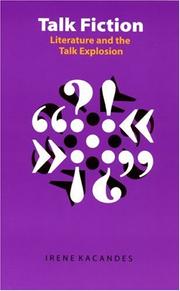 Series

Frontiers of narrative
Frontiers of narrative.

Format

Book

Author/Creator

Kacandes, Irene, 1958-

Published

Lincoln : University of Nebraska Press, ©2001

Language
Record last modified: 2019-01-22 09:25:00
This page: https://collections.ushmm.org/search/catalog/bib268959