Agent Garbo : the brilliant, eccentric secret agent who tricked Hitler and saved D-Day / Stephan Talty.
Publication | Library Call Number: D810.S8 P883 2012
Agent Garbo tells the astonishing story of a self-made secret agent who matched wits with the best minds of the Third Reich--and won. Juan Pujol was a nobody, a Barcelona poultry farmer determined to oppose the Nazis. Using only his gift for daring falsehoods, Pujol became Germany's most valued agent--or double agent: it took four tries before the British believed he was really on the Allies' side. In the guise of Garbo, Pujol invented armadas out of thin air and brought a vast network of fictional subagents whirring to life. His German handlers believed every word, and banked on Garbo's lies as their only source of espionage within Great Britain. For his greatest performance, Pujol had to convince the German High Command that the D-Day invasion of Normandy was a feint and the real attack was aimed at Calais. The Nazis bought it.--From publisher description.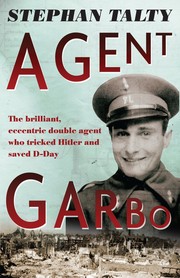 Format

Book

Author/Creator

Talty, Stephan, author.

Published

Boston : Houghton Mifflin Harcourt, 2012

Locale

Great Britain

Language
Record last modified: 2019-10-10 16:43:00
This page: https://collections.ushmm.org/search/catalog/bib270258