Rommel : battles and campaigns / Kenneth Macksey.
Publication | Library Call Number: D757 .M27 1997
By 1942 Rommel and his Afrika Korps had converted a "side show" of World War II into a major offensive for the Axis powers. The British had been thrown back across the frontiers of Egypt until, at E1 Alamein, Rommel's army threatened Cairo, Alexandria, and the rich oil fields of the Middle East. Rommel: Battles and Campaigns provides a perceptive and incisive analysis of his entire military career, from his fighting in Rumania, Italy, and France during World War I, through his North African campaigns, to his command in Normandy and his fatal (though false) implication in the July 20 bomb plot against Hitler. Written by an expert in tank warfare, and illustrated with nearly two hundred photos and maps, this book presents a revealing, critical portrait of one of the most celebrated soldiers of World War II.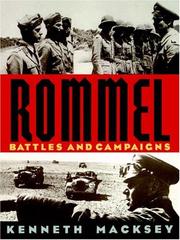 Format

Book

Author/Creator

Macksey, Kenneth.

Published

New York : Da Capo Press, 1997

Locale

Germany
Africa, North
North Africa

Language

External Link

Edition

1st Da Capo ed
Record last modified: 2019-10-22 12:58:00
This page: https://collections.ushmm.org/search/catalog/bib273727