The Jews in Germany, 1945-1993 : the building of a minority / Michael Cohn.
Publication | Library Call Number: DS135.G332 C64 1994
Ch. 4 (p. 55-70), "The Legacy of the Third Reich, " reflects on the barrier between Germans and Jews generated by the years of Nazism and the Holocaust. The German government has tried to overcome this barrier, using such means as reparations, official visits of former German Jews to their birthplaces in Germany, subsidies to Jewish organizations, reception of Jewish immigrants from the former USSR, and suppression of right-wing anti-Jewish activities. Ch. 6 (p. 81-90), "Jews and Germans, " reflects on the complicated process of reconciliation between Germans and Jews, and on attempts to return Jews, both physically and culturally, into German society and culture. Shows that the question of the degree and uniqueness of German guilt toward the Jews also remains a burning issue. ǂc (From the Bibliography of the Vidal Sassoon International Center for the Study of Antisemitism).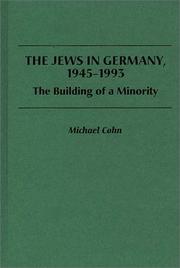 Format

Book

Author/Creator

Cohn, Michael, 1924-

Published

Westport, Conn. : Praeger, c1994

Locale

Germany

Language

External Link
Record last modified: 2020-12-10 16:13:00
This page: https://collections.ushmm.org/search/catalog/bib5406