Torquemada
Object | Accession Number: 2015.108.1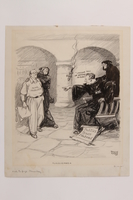 Editorial cartoon, Torquemada, created by Rollin Kirby and probably published in the New York Post. The drawing portrays the isolationist US Senator Gerald Nye as a modern day Torquemada, the Grand Inquisitor who cleansed Spain of Jews in the 15th century. In Kirby's portrayal, Nye, in judicial robes, is accusing a movie producer of hating Hitler. Nye chaired a committee in the 1930s that sought to tie US entry into World War I (1914-1918) to the influence of war profiteers. He was strongly opposed to US involvement in any foreign wars and was a drafter of the 1936 Neutrality Act forbidding arms shipments to any belligerent country. He won re-election in 1938 and was appointed to the Senate Foreign Relations Committee where he advocated non-intervention. He also formed the anti-war America First Committee. In 1941, he accused Hollywood of acting under the influence of Jews and communists and inciting war fever.


Date

publication/distribution: 1941 September 11
creation: approximately 1941 September 11


Geography

publication: New York (N.Y.)
creation: New York (N.Y.)


Language

Classification

Category

Object Type

Credit Line

United States Holocaust Memorial Museum Collection. The acquisition of this collection was made possible by the Crown Family.
Record last modified: 2021-02-10 09:11:04
This page: https://collections.ushmm.org/search/catalog/irn107271