Stainless steel fork with SS runes acquired by a Lithuanian Jewish concentration camp inmate
Object | Accession Number: 1998.130.1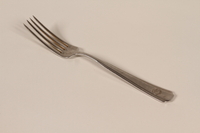 Table fork with an SS officer school stamp owned by Getzel Fingerhut. It is unclear when he acquired it, but most likely it was after his liberation from Kaufering X slave labor camp, also called Dachau 10, where he was imprisoned from August 1944 to April 1945. In August 1941, Getzel, 19, and his family were interned in the ghetto in German occupied Siauliai, Lithuania. Getzel worked in a series of forced labor camps until July 1944, when the ghetto residents were deported to Stutthof concentration camp. Getzel, his father, Josef, and his brother, Eliahu were then transferred to Kaufering 10. Getzel worked repairing locomotives and machines. The camp was evacuated by death march in April 1945. The prisoners were used by the German guards as shields against Allied bombers. Getzel, Josef, and Eliahu, and the other prisoners were liberated by US troops on April 30, near Wolfranhausen, Germany. They were re-settled in Feldafing displaced persons camp.


Date

found: approximately 1945


Geography

manufacture: Wurttemberg (Germany)
found: Germany


Language

Classification

Category

Object Type

Credit Line

United States Holocaust Memorial Museum Collection, Gift of George J. Fine
Record last modified: 2023-06-22 09:03:40
This page: https://collections.ushmm.org/search/catalog/irn12663

Also in George J. Fine collection
The collection consists of a concentration camp uniform jacket, a fork, and a letter relating to the experiences of Getzel Fingerhut (later George Fine) during the Holocaust when he was a prisoner in Kaufering X concentration camp in Germany and after the Holocaust in Feldafing displaced persons camp.
Date: 1944 October-1946 November
Object
Striped concentration camp uniform jacket issued to Getzel Fingerhut, 22, as a replacement for his oil slicked jacket, while interned in Kaufering X slave labor camp, known as Dachau 10, from August 1944 to April 1945. Getzel was an oiler for a diesel shovel and when his jacket got covered in grease and oil ca. November, his German boss requested this one for him. He wore this jacket for 5 or 6 months, over his oily jacket, to keep warm. He made the number patch 92041, a copy of the one on his old jacket, because he would be punished if he had no identifying badge. There was only one German worker, so Getzel also operated the shovel and worked 2-3 shifts at a time. Most of the prisoners were Lithuanian Jews from Getzel's home town, Siauliai, in German occupied Lithuania. In August 1941, Getzel and his family were interned in Siauliai ghetto. Getzel was in a series of forced labor camps until July 1944, when the ghetto residents were deported to Stutthof. Getzel, father Josef, and brother Eliahu were then transferred to Kaufering 10. The camp was evacuated by death march in April 1945. The prisoners were used by the German guards as shields against Allied bombers. They were liberated by US troops on April 30, near Wolfranhausen, and re-settled in Feldafing displaced persons camp.
Document
Consists of a letter written by survivor concerning the whereabouts of former member of Wehrmacht; written by Georg Fingerhut in Munich to city authorities in Aachen, Germany, requesting address for person named "Gonzen or Konzen" who demonstrated kindness to Georg and a friend while prisoners in Lithuania in 1946; response by city officals inscribed on letter, lower left, as having no information on such person