Polish Home Army commemorative armband issued to veteran of Warsaw Insurrection
Object | Accession Number: 2010.459.2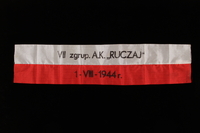 Red and white armband commemorating the Warsaw Insurrection issued to Ryszard Przemyski, a member of the underground resistance group, Armia Krajowa [Home Army], known as A.K. The armband has his group number VII, pseudonym Ruczaj, A.K., and the date. The Warsaw Rising or Insurrection, August 1-October 5, 1944, was the attempt by the Polish Home Army to retake Warsaw from the German occupying forces. They retook much of the city, but without the promised aid from Western Allies or the Soviet Union, whose forces were within sight of the city, the resistance was crushed. The Germans massacred or deported the populace and Hitler ordered the city burnt to the ground. Ryszard was a 15 year old high school student when Germany invaded Poland on September 1, 1939. He was captured during the Warsaw Uprising in fall 1944 and sent to Stalag III-A prisoner of war camp in Luckenwalde, Germany. On April 22, 1945, Soviet troops liberated the camp and Ryszard joined the 2nd Polish Corps, a division of the British Army, in Italy. He met fellow A.K. member Ewa Lada in Rome. The war ended in May, and the couple moved to Camp Foxley, a displaced persons camp in England.


Date

1944 August 01-1944 October 02 (commemoration)


Language

Classification

Category

Object Type

Credit Line

United States Holocaust Memorial Museum Collection, Gift of Eve Przemyski
Expand all
Record last modified: 2018-10-24 14:07:36
This page: https://collections.ushmm.org/search/catalog/irn43009

Also in Eve and Richard Przemyski collection
The collection consists of an armband, documents, photographs, and publications relating to the experiences of Ewa Lada (Eve Przemyski) in Poland and prisoner of war camps in Germany during the Holocaust, and in Italy and England after the Holocaust, of Richard Przemyski in Poland and a prisoner of war camp in Germany during the Holocaust and England and the US after the Holocaust, and of Maria Lada and friends in Poland before and after the Holocaust.
Date: approximately 1927-1964
Document
The Eve Przemyski papers include biographical materials, a handcrafted clandestine diary, and photographs documenting Eve's prewar life in Równe, Poland (now Rivne, Ukraine), her internment in prisoner of war camps at Sandbostel and Oberlangen following the Warsaw Uprising, her service in the Polish armed forces at the end of the war, and her relocation to England and immigration to the United States with her husband, Richard Przemyski, after the war. Her handmade diary includes rich descriptions and illustrations documenting her internment in two POW camps in 1944 and 1945.