Prisoner identification tag stamped 85375 with leather band worn by a Polish Jewish inmate in several concentration camps
Object | Accession Number: 2012.341.2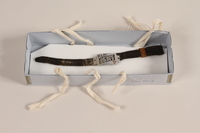 Identification tag stamped KLM / 85375 / P issued to Moses Majerczyk at Mauthausen concentration camp and worn in Melk and Ebensee concentration camps from August 1944 to May 1945. He was required to wear the tag around his wrist and it is taped to a wrist watch band. On September 1, 1939, Germany occupied Poland. In January 1942, Moses was taken to the Krakow ghetto. In September, he was one of the first prisoners transferred to Płaszów forced-labor camp to build the facilities. On August 8, 1944, he was transferred to Mauthausen concentration camp, where he was assigned prisoner number 85375. Later that month, he was sent to Melk forced-labor camp. In April 1945, Moses was transported to Ebensee concentration camp, where, on May 4-5, he was liberated by US troops. By January 25, 1946, Moses was at Bindermichl displaced persons camp in Linz, Austria. At the camp he met Ludwika Finder, a concentration camp survivor also from Poland, and, in May 1946, they married. In May 1949, they emigrated to the United States on the SS Marine Flasher.


Date

use: 1944 August-1945 May


Geography

issue: Mauthausen (Concentration Camp); Mauthausen (Austria)
use: Melk (Concentration camp); Melk (Austria)
use: Ebensee (Concentration camp); Ebensee (Austria)


Language

Classification

Category

Object Type

Credit Line

United States Holocaust Memorial Museum Collection, Gift of Ettie Shapiro
Record last modified: 2022-07-28 18:34:22
This page: https://collections.ushmm.org/search/catalog/irn50261

Also in Ludwika and Moses Myers collection
The collection consists of an identification tag, documents, and photographs relating to the experiences of Mojzesz Majerczyk (later Moses Myers) before and during the Holocaust in Krakow, Poland, and when he was imprisoned at Plaszow forced-labor camp and Mauthausen, Melk, and Ebensee concentration camps; and of both Mojzesz and Ludwika Finder after the war in the Bindermichl displaced persons camp in Linz, Austria, where they met and married. Some of these materials may be combined into a single collection in the future.
Date: 1916-1950
Document
Photographs (12), and documents, primarily from post-war displaced persons camps in Austria, related to Moses Majerczyk and his wife, Ludwika (nee Finder) Majerczyk. Most of the photographs show the Majerczyks with friends and acquaintances in Bad Ischl and Linz, Austria, 1946-1949, with a few pre-war family photographs. Documents include a card identifying Moses as a former prisoner of Mauthausen/Ebensee (1945); a marriage certificate for Moses and Ludwika (1946); and two immigration cards issued by HIAS, showing that the Majerczyks left Bremen on the S.S. Marine Jumper, in May 1949.
Document
Contains one Ketubah, a marriage contract written between the donor's parents, Moshe, son of Menachem (Moses Majerczyk), and Ryfka, daughter of Yehezkel (Ludwika Finder), on 7 April 1946 (6 of Nissan 5706) in Linz, Austria.