Color poster with a portrait of Hitler and the Nazi slogan: Ein Volk, ein Reich, ein Fuhrer!
Object | Accession Number: 2003.467.3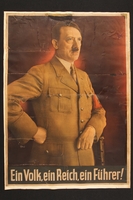 Color poster of an iconic painting of the Fuhrer, Adolf Hitler, printed in Germany during the Third Reich, 1933-1945. The original painting was created by Heinrich Knirr in 1935-1936, and was based on a photograph taken by Heinrich Hoffman in 1935. Hitler approved the image and it was widely used on Nazi propaganda pieces and was very popular. The slogan Ein Volk, ein Reich, ein Fuhrer was one of the central slogans used by Hitler and the Nazi Party. Nazi propaganda portrayed their leader (Fuhrer) as the living embodiment of the German nation and people. This slogan reinforced the cult of Hitler and the sense of destiny that the Party claimed made him the savior of Germany and father of the German people.


Artwork Title

Ein Volk, ein Reich, ein Fuhrer!

Alternate Title

One People, one Country, one Leader!

Date

publication/distribution: approximately 1940


Geography

manufacture: Reichenbach (Saxony, Germany)


Language

Classification

Category

Object Type

Credit Line

United States Holocaust Memorial Museum Collection
Record last modified: 2022-09-09 14:17:10
This page: https://collections.ushmm.org/search/catalog/irn516176

Also in Third Reich propaganda collection
The collection consists of a banner, a pair of gaiters, a poster, documents, publications, and prints relating to life in Germany under the Third Reich, from 1933-1945.
Date: approximately 1934-1965