Notice to all members of allied troops in Tel Aviv today
Object | Accession Number: 2018.10.6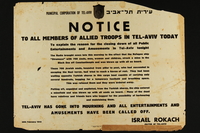 Broadside issued by the Municipal Corporation of Tel-Aviv and mayor, Israel Rokach, announcing closures and a day of mourning in response to the sinking of the refugee ship, Strumah, in the Black Sea off of Istanbul, Turkey, in February 1942. The Strumah (Struma) was an illegal immigrant ship that left Constanta, Romania, on December 12, 1941, with 767 Jewish refugees fleeing policies enacted by the German-allied, Romanian government. The ship was headed for Istanbul, where the passengers hoped to get visas to enter Palestine (now Israel). The old cargo barge was unsafe and overcrowded. The engine died when it reached Istanbul, and it had to be towed into port. Palestine was ruled by the British who imposed strict immigration limits and refused to provide visas. Turkish authorities also denied entry to the passengers. After being held in quarantine for 70 days, the Strumah was towed out to sea by Turkish police on February 23, 1942. The next day, the ship sank. Initially it was believed to have been sunk after drifting into a minefield, but was actually torpedoed by a Soviet submarine. The sole survivor was 20 year old David Stoliar. He was found in the wreckage by Turkish sailors, jailed in Turkey, but released after 71 days when the British supplied a visa for Palestine.


Date

1942-1942

Date

publication/distribution: 1942 February 25


Geography

distribution: Tel Aviv (Palestine) historic; Tel Aviv (Israel)


Classification

Category

Object Type

Genre/Form

Credit Line

United States Holocaust Memorial Museum Collection. The acquisition of this collection was made possible by the Crown Family.
Record last modified: 2021-02-10 09:28:18
This page: https://collections.ushmm.org/search/catalog/irn594477