US propaganda poster reminding Americans of the urgent need to support the war
Object | Accession Number: 2014.504.2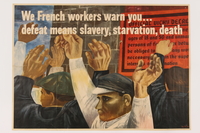 Propaganda poster A-25 designed by Ben Shahn for the US War Production Drive to promote popular support for World War II. The colorful lithograph has an image of men with their hands raised in the air. The poster protests the oppression of worker's by the Vichy government in unoccupied France, and warns, one worker to another, of even more terrible things to come. The workers stand before a broadside of the Official Vichy Decree which forced French workers to perform any work which served the interest of the nation. The US government originally supported this regime, established in 1940 under Marshal Petain after the June 1940 surrender of France to Nazi Germany. Vichy then passed anti-Jewish laws similar to those in Germany and collaborated with the Nazi occupiers. In November 1942, Germany extended their occupation to this southern and eastern region of France.


Artwork Title

We French workers warn you - defeat means slavery, starvation, death

Date

publication/distribution: 1942


Geography

publication: Washington (D.C.)


Language

Classification

Category

Object Type

Credit Line

United States Holocaust Memorial Museum Collection. The acquisition of this collection was made possible by the Crown Family.
Record last modified: 2022-07-28 21:51:15
This page: https://collections.ushmm.org/search/catalog/irn90135