Bar Kochba Jewish Sports Club metal plaque with a Star of David owned by a Czech Jewish refugee
Object | Accession Number: 2009.364.6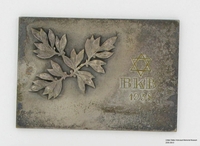 Commemorative plaque from the Bar Kochba Jewish sports club awarded to Tom T. Kovary in Bratislava, Czechoslovakia, on January 9, 1938. On September 2, 1939, nineteen year old Tibor Kovari and his twenty year old brother, Erno, were attacked on the street for being Jewish by Nazi sympathizers in Bratislava. They fought back, put their attackers in the hospital, and were arrested, along with their father, Olivio. The incident received such widespread publicity that the authorities advised them to flee for fear of retaliation. They illegally crossed the border into Hungary, where they obtained visas for the US, arriving in New York on February 29, 1940. Both brothers joined the US Army: Tom was in Military Intelligence stateside; Ernest in combat, landing with the infantry on D-Day. He searched for surviving relatives, but found only one cousin, a survivor of Auschwitz death camp.


Date

commemoration: 1938 January 09
emigration: 1940 February


Geography

issue: Bratislava (Slovakia)


Classification

Category

Object Type

Credit Line

United States Holocaust Memorial Museum Collection, Gift of Myra Kovary and Vally Kovary.
Record last modified: 2020-01-16 14:45:51
This page: https://collections.ushmm.org/search/catalog/irn39955

Also in Kovary and Neuhaus families collection
The Kovary and Neuhaus families collection includes medals, ribbons, pins, a leather wallet, a leather portfolio, a set of silver ice cream spoons, and family papers documenting the Holocaust-era experiences of the Kovary family from Bratislava and the Neuhaus family from Hamburg.