Rectangular yellow badge with Star of David and Ž kept by hidden child
Object | Accession Number: 2002.432.3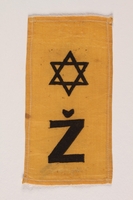 Yellow cloth rectangle with a Star of David and the letter Ž for Jew kept by Teodora (Dorica) Basch while a hidden child from 1941-1945 in Ludbreg in the former Yugoslavia. This type of patch was used only from April to June 1941 and was replaced by small metal, or sometimes paper, badges with the Ž. Dorica does not know whose badge it was, but it was in her home all during the war. In April 1941, 3 year old Dorica was visiting her maternal grandparents, Rabbi Leopold and Katerina Deutsch in Ludbreg when Germany and its allies invaded. Yugoslavia was partitioned and Ludberg was in the newly formed Independent State of Croatia, ruled by the pro-Nazi fascist Ustasa. Her parents, Salamon and Silva, and her 5 month old brother, Zdravko, were arrested in Zagreb. Their housekeeper was allowed to take Zdravko from jail and he was brought to join Dorica. Salamon was deported to Jasenovac concentration camp and killed after escaping in 1944. Silva was sent to subcamp Stara Gradiska, where she perished. In 1942, Dorica's grandparents were deported to Auschwitz and murdered. Dorica and Zdranko were left with their maternal aunt Giza and her Catholic husband Ljudevit Vrancic. Ustasa and the Germans worked vigorously to rid Croatia of Jews, but many neighbors helped hide the siblings. In 1943, Ljudevit was arrested. Soon after his release, Giza was denounced as a Jew, sent to Auschwitz, and died soon after arrival. German forces left in April 1945. Most of the children's relatives were killed in concentration and labor camps, and Ljudevit adopted them. Zdranko died of scarlet fever in 1946.


Date

use: approximately 1941 April-1941 May


Geography

use: Ludbreg (Croatia)


Language

Classification

Category

Object Type

Credit Line

United States Holocaust Memorial Museum Collection, Gift of Theodora Klayman
Record last modified: 2019-12-04 16:12:19
This page: https://collections.ushmm.org/search/catalog/irn512963

Also in Theodora Klayman collection
The collection consists of two Star of David badges and photographs relating to the experience of Teodora Basch (now Dora Klayman) and the Apler, Basch, Deutsch, and Vrancic families in Yugoslavia before and during the Holocaust during which Theodora lived in hiding in Ludbreg in the fascist ruled Independent State of Croatia.
Document
The Dora Klayman photograph collection consists of photographs of the Apler family, the Deutsch family, and the Basch families in Yugslavia, dating from 1924-1959. The photographs include candid and group photographs of various family members as well as Jewish children in hiding.
Object
Yellow cloth rectangle with a Star of David and the letter Ž for Jew kept by Teodora (Dorica) Basch while a hidden child from 1941-1945 in Ludbreg in the former Yugoslavia. This type of patch was used only from April to June 1941 and was replaced by small metal, or sometimes paper, badges with the Ž. Dorica does not know whose badge it was, but it was in her home all during the war. In April 1941, 3 year old Dorica was visiting her maternal grandparents, Rabbi Leopold and Katerina Deutsch in Ludbreg when Germany and its allies invaded. Yugoslavia was partitioned and Ludberg was in the newly formed Independent State of Croatia, ruled by the pro-Nazi fascist Ustasa. Her parents, Salamon and Silva, and her 5 month old brother, Zdravko, were arrested in Zagreb. Their housekeeper was allowed to take Zdravko from jail and he was brought to join Dorica. Salamon was deported to Jasenovac concentration camp and killed after escaping in 1944. Silva was sent to subcamp Stara Gradiska, where she perished. In 1942, Dorica's grandparents were deported to Auschwitz and murdered. Dorica and Zdranko were left with their maternal aunt Giza and her Catholic husband Ljudevit Vrancic. Ustasa and the Germans worked vigorously to rid Croatia of Jews, but many neighbors helped hide the siblings. In 1943, Ljudevit was arrested. After his release, Giza was denounced as a Jew, sent to Auschwitz, and died soon after arrival. German forces left in April 1945. Most of the children's relatives were killed in concentration and labor camps, and Ljudevit adopted them. Zdranko died of scarlet fever in 1946.