Double-door railroad freight car with brakeman's cabin of the type used to transport victims throughout the Nazi camp system
Object | Accession Number: 1989.225.1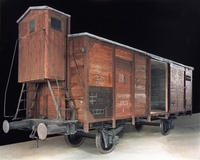 Association type 2 (A2), Gedeckter (G, covered) freight wagon owned by the Deutsche Reichsbahn (DR, German National Railway), one of several types used to transport victims through the Nazi camp system and to killing centers during the Holocaust. The car, numbered 31599, is a 15T (rated to carry 15 tons), equipped with a brakeman's box, making it a Karlsruhe class wagon. The cars continued to be used after World War II, and as parts on the cars degraded, they were replaced with others from a variety of manufacturers. A2 railcars were produced from 1910-1927, and were originally used to transport goods that required protection from the elements. Deportation trains were ordered by telegram or telex, and gave the amount and type of cars needed. The actual trains were compiled at the stations from the cars available there. Before each transport left, the railway guard listed all cars by their identification numbers. Few of these lists survived, as they were not kept after a train had reached its destination. Jewish prisoners were then packed into railcars, approximately eighty people per car, and transported into the Nazi camp system, and eventually to killing centers in German-occupied Poland. During transport, prisoners were denied food and water, and many deportees died before the trains reached their destinations. Armed guards shot anyone trying to escape. The Reichsbahn charged a base rate of third class passenger fare for a deportee, children under ten traveled at half price and those under four traveled free, and special group rates were offered if at least four hundred people were in one shipment. Payment for transport was handled by the Reich Security Main Office headed by Adolf Eichmann.


Date

manufacture: 1920


Geography

manufacture: Esslingen (Germany)
acquired: Poland


Language

Classification

Category

Object Type

Genre/Form

Credit Line

United States Holocaust Memorial Museum Collection, Gift of the Institute of National Remembrance
Record last modified: 2023-08-24 15:21:39
This page: https://collections.ushmm.org/search/catalog/irn512989

Also in Institute of National Remembrance collection
The collection consists of a rail car used to deport victims to concentration camps, railroad tracks and components that led to Treblinka killing center, and a chain.
Date: approximately 1907-1949
Object
Railroad rails and components from railroad tracks that led to Treblinka killing center in German-occupied Poland. The individual rail segments were connected end to end with fasteners called fishplates (joint bars), which were bolted to internal holes in the rails to secure the tracks together and keep them from moving as trains passed over them. During the Holocaust, the Nazis used the European rail network to transport their victims into the camp system, and eventually to killing centers in German-occupied Poland. Deportation trains were ordered by telegram or telex, and gave the amount and type of cars needed. The actual trains were compiled at the stations from the cars available there. Before each transport left, the railway guard listed all cars by their identification numbers. Few of these lists survived, as they were not kept after a train had reached its destination. Jewish prisoners were packed into railcars, approximately eighty people per car, and were denied food and water. Many deportees died before the trains reached their destinations. Armed guards shot anyone trying to escape. Incoming trains bound for Treblinka first stopped at the Malkinia station. Twenty cars at a time were detached from the train and brought into the killing center. There, the victims were told they had arrived at a transit camp, ordered to disembark, and instructed to hand over their valuables. Between 870,000 and 925,000 Jews were killed at Treblinka, most of them delivered by train.
Object
Large metal chain with a hook on the end acquired with a railroad freight car and railroad rails from Poland in 1989.