Nazi Party Women's Order of the Red Swastika lapel pin
Object | Accession Number: 2006.103.2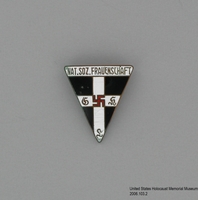 National Sozialistische Frauenschaft [National Socialist Womenhood] triangular membership pin. The letters on the pin, GHL, stand for the organization's motto "Glaube, Hoffnung, Liebe" (Faith, Hope, Love). The NSF was formed in 1931 and in 1935, it became an official party organ of the Nazi Party [NSDAP].


Date

issue: approximately 1940


Geography

issue: Germany


Language

Classification

Category

Object Type

Credit Line

United States Holocaust Memorial Museum Collection, Gift of Cayla D. Houston
Record last modified: 2020-06-30 09:24:32
This page: https://collections.ushmm.org/search/catalog/irn518280

Also in Cayla DuChene Houston collection
The collection consists of artifacts related to the history of the Nazi party in Germany during the Third Reich.
Object
Hitler Youth proficiency badge that would have been awarded for the successful completion of a series of tests measuring physical and ideological proficiency, rated according to the Leistungsbuch [identity document and performance book]. The tyr-rune [arrow shape] represents the warrior god Tyr. The Hitler Youth was founded by the Nazi Party in 1926 to shape the beliefs and actions of German youth to conform to national socialist ideology. After Hitler's selection as Chancellor in 1933, this became the national ideology, and loyalty to the Nazi Party and its leaders was a central teaching. The Hitler Youth was a pathway for service in the armed forces or, later, in the SS. In 1936, membership in Nazi youth groups became mandatory for all boys and girls between the ages of ten and seventeen.
Object
National Sozialistische Frauenschaft [National Socialist Womenhood] triangular membership pin. The letters on the pin, GHL, stand for the organization's motto "Glaube, Hoffnung, Liebe" (Faith, Hope, Love). The NSF was formed in 1931 and in 1935, it became an official party organ of the Nazi Party [NSDAP].