Kronenkreuz crucifix stickpin of the Inner Mission charity
Object | Accession Number: 2006.483.2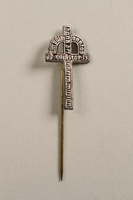 Crowned cross [Rosenkreiz] crucifix pin given by the Central-Ausschuss fur Innere Mission [Central Committee for Inner Mission of the Protestant Church of Germany] to people who donated to their charity organization, the Inner Mission. The Nazi regime, which governed Germany from 1933-1945, limited the church's fundraising activities to an annual Volkstag der Innere Mission [National Day of Inner Mission]. The pin shows the Kronenkreuz (crowned cross), the official sign of the Inner Mission.


Date

1935 (issue)


Geography

issue : Berlin (Germany)


Language

Classification

Category

Object Type

Credit Line

United States Holocaust Memorial Museum Collection, Gift of Archiv des Diakonischen Werkes der Evangelischen Kirche Deutschlands
Expand all
Record last modified: 2019-02-11 06:58:23
This page: https://collections.ushmm.org/search/catalog/irn518983

Also in Archiv des Diakonischen Werkes der Evangelischen Kirche Deutschlands, Berlin collection
The collection consists of lapel pins related to the history of the Inner Mission charity of the Protestant Church in Germany during the 1930s under the Nazi regime in Germany.
Date: approximately 1935
Object
Crowned cross [kronenkreuz] oval pin issued by the Central-Ausschuss fur Innere Mission [Central Committee for Inner Mission] of the Protestant Church in Germany to people who donated to their charity organization, the Inner Mission. The Nazi regime, which governed Germany from 1933-1945, limited the church's fundraising activities to an annual Volkstag der Innere Mission [National Day of Inner Mission]. The mission would collect money on the street and go door to door seeking donations on this day. The pin shows the Kronenkreuz (crowned cross), the official sign of the Inner Mission.