Red fez found at Dachau concentration camp after liberation
Object | Accession Number: 1992.212.1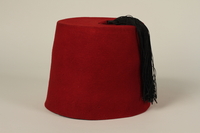 Red fez with a label with Persian text owned by Rabbi Aaron Landes. The fez was found at Dachau concentration camp in Germany following the April 29 liberation by US troops. There was a unit of the Waffen SS that wore a red fez as part of the dress uniform. It was composed of Muslims from Bosnia, Croatia, and Herzegovina in occupied Yugoslavia. Unlike this fez, which is unadorned, the Waffen SS fezes had a Nazi Death's head and Reichsadler insignia.


Date

found: after 1945 April 29


Geography

found: Dachau (Concentration camp) after liberation; Dachau (Germany)


Language

Classification

Category

Object Type

Credit Line

United States Holocaust Memorial Museum Collection, Gift of Aaron Landes
Record last modified: 2023-08-28 08:11:27
This page: https://collections.ushmm.org/search/catalog/irn6363

Also in Rabbi Aaron Landes collection
The collection consists of two Waffen SS fez found at Dachau concentration camp following its liberation by United States troops.
Date: after 1945 April 29
Object
Red fez with a swastika and Death's head owned by Rabbi Aaron Landes. The fez was found at Dachau concentration camp in Germany following the April 29 liberation by US troops. The red fez was part of the dress uniform of a Waffen-SS military detachment composed of Muslims from Bosnia, Croatia, and Herzegovina in occupied Yugoslavia, with one division from Albania. There was a green/field gray fez for the combat uniform. The creation of this unit was authorized by Hitler in 1943. The original purpose was to combat Tito's partisans. Through recruitment and conscription, the unit had 26,000 soldiers within a few months. The group was commanded by German or ethnic German officers, and the uniforms were designed to reflect the religion/ethnicity of the recruits.