Poster stamp encouraging French support of WWII
Object | Accession Number: 2018.233.4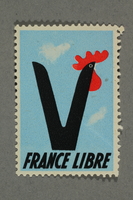 "V for Victory" poster stamp featuring an amalgamation of the letter V and the Gallic Rooster, a national emblem of France. Poster stamps were collectable stamps, slightly larger than postage stamps, with designs similar to posters. Although they were not valid for postage, poster stamps could be affixed to letters and envelopes as a means for fundraising, propaganda, and educational purposes. The history of the Gallic Rooster dates back to Roman Gaul. The Latin word "gallus" means both "rooster" and "inhabitant of Gaul" and over time the rooster was used as a French religious symbol. During the era of the French Revolution, the rooster became a representation of French identity, and during the First and Second World Wars the rooster symbolized France's resistance and bravery against the Germans. In early 1941, the "V for Victory" campaign was conceived by Victor de Laveleye, who broadcast for the BBC in German-occupied Belgium. He proposed the idea to his audience because "V" is the first letter of the French and English words for "victory" (victoire and victory), as well as the Flemish and Dutch word for "freedom" (vrijeid). He then called on his listeners to write the V everywhere as an act of resistance against the occupiers. The idea caught on and spread to the Netherlands, northern France, and England. Later, it was observed that the Morse code for "V," three dots and a dash (. . . —) were coincidentally the first three notes of Beethoven's 5th Symphony. British radio broadcaster, Douglas E. Ritchie (broadcasting under the name, Colonel V. Britton) further encouraged the V as an act of resistance and used Beethoven's symphony as the theme song for his program.


Alternate Title

France Libre

Date

publication/distribution: 1941-1945


Language

Classification

Category

Object Type

Genre/Form

Credit Line

United States Holocaust Memorial Museum Collection, Gift of Forrest James Robinson, Jr.
Record last modified: 2020-08-27 12:54:59
This page: https://collections.ushmm.org/search/catalog/irn612167

Also in Forrest James Robinson Jr. collection
The collection consists of 33 American WWII era poster stamps, which include images commemorating Poland and France, Peace for America, the National Recovery Administration, the Council against Intolerance in America, V for Victory, and other subjects.