Oral history interview with Yahad-In Unum interviewee 576U
Oral History | Accession Number: 2009.24.2 | RG Number: RG-50.589.0002
The interviewee, a French Jewish woman who was a child in Ukraine and born in 1934, describes the Soviet takeover in Nizhyn, Ukraine; the arrival of the Germans after the war began; and how she was forced to march with other Jews to a camp in Mahilioŭ, Belarus.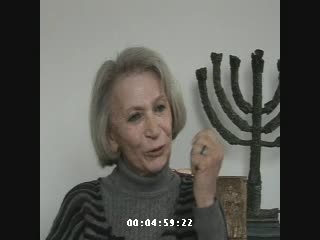 Date

interview: 2008 March 13


Language

Extent

1 compact disc.


Credit Line

United States Holocaust Memorial Museum Collection, Gift of Yahad-in Unum
Record last modified: 2021-01-06 14:59:30
This page: https://collections.ushmm.org/search/catalog/irn38296

Also in Yahad-in Unum oral history collection
Oral history interviews conducted in Ukraine, Russia, and Belarus by Yahad-in Unum.