Oral history interview with Yahad-In Unum interviewee 521U
Oral History | Accession Number: 2009.24.124 | RG Number: RG-50.589.0124
The interviewee, a Ukrainian woman born in 1920, discusses events in Zabolottya, Ukraine; the prewar Polish administration; the presence of many Jews, who were chiefly traders; the arrival of German troops; the battle with Soviet forces; the departure of her husband with the retreating Soviet troops; the German local headquarters in the center of town; witnessing the transportation of Jews to a shooting site near the lake; the shooting of the Jews by Germans; seeing the earth covering the trench move days after the shooting; and her forced participation in sorting through and repairing clothing left by the Jews at the shooting site. The video includes scenes of the shooting site.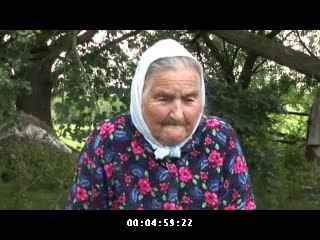 Date

interview: 2007 July 28


Geography

creation: Zabolottia (Ratnivs'kyi raion, Ukraine)


Extent

1 compact disc.


Credit Line

United States Holocaust Memorial Museum Collection, Gift of Yahad-in Unum
Record last modified: 2023-11-16 09:06:48
This page: https://collections.ushmm.org/search/catalog/irn38687

Also in Yahad-in Unum oral history collection
Oral history interviews conducted in Ukraine, Russia, and Belarus by Yahad-in Unum.