Oral history interview with Yahad-In Unum interviewee 540U
Oral History | Accession Number: 2009.24.142 | RG Number: RG-50.589.0142
The interviewee, a Ukrainian woman born in 1929, discusses events in Vysots'k, Rivnens'ka oblast', Ukraine; the prewar presence of Jews; the arrival of Germans and the rounding-up of Jews; the ghetto in the center of Vysots'k; the marching of Jews to a shooting site, which she observed from her house; the abandonment of belongings by Jews who knew they were going to be killed; and some details on the shooting, which she saw from a distance.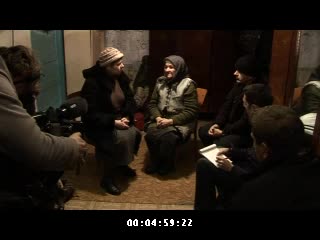 Date

interview: 2008 January 01


Geography

creation: Vysots'k (Rivnens'ka oblast', Ukraine)


Extent

1 compact disc.


Credit Line

United States Holocaust Memorial Museum Collection, Gift of Yahad-in Unum
Record last modified: 2019-12-05 21:23:07
This page: https://collections.ushmm.org/search/catalog/irn38719

Also in Yahad-in Unum oral history collection
Oral history interviews conducted in Ukraine, Russia, and Belarus by Yahad-in Unum.