Oral history interview with Yahad-In Unum interviewee 752U
Oral History | Accession Number: 2009.24.202 | RG Number: RG-50.589.0202
The interviewee, a Ukrainian man born in 1928, discusses events in Sambir, Ukraine and nearby Staryĭ Sambir, L'vivs'ka oblast', Ukraine; attending school in Sambir before the war; the German rule ending schooling for boys fourteen and older; how in 1942 he started working in a Staryĭ Sambir furniture factory; seeing the Sambir ghetto, which was established in 1942, on his many visits to the town; seeing a column of Jews in a Sambir street, probably on the way to a shooting site near the Jewish cemetery; watching a woman push a child from the column and seeing a German guard throw the child against a building; details on the work by Jews on roads and in quarries; details on Jews who were put to work in his factory, some of whose names he mentions; how Jews were taken from Staryĭ Sambir to the ghetto in Sambir; some details on the Judenrat and the Jewish police; the participation by Ukrainian police, many of whom were Ukrainian nationalists, in the individual shooting of Jews in Staryĭ Sambir; the killing of prisoners by the Soviets just prior to their 1941 retreat from Sambir; and his contention that this killing was carried out by Jewish "specialists" brought in by the Soviets for this purpose.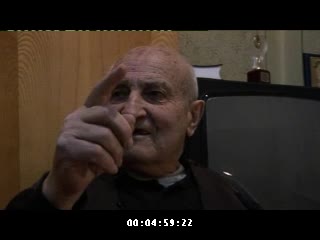 Date

interview: 2009 January 14


Geography

creation: Sambir (Sambirs'kyi raion, Ukraine)


Extent

1 compact disc.


Credit Line

United States Holocaust Memorial Museum Collection, Gift of Yahad-in Unum
Record last modified: 2021-01-06 16:13:41
This page: https://collections.ushmm.org/search/catalog/irn38793

Also in Yahad-in Unum oral history collection
Oral history interviews conducted in Ukraine, Russia, and Belarus by Yahad-in Unum.