Oral history interview with Yahad-In Unum interviewee 785U
Oral History | Accession Number: 2009.24.235 | RG Number: RG-50.589.0235
The interviewee, a Ukrainian man born in 1929, discusses events in Skalat, Ternopil's'ka Oblast, Ukraine; the prewar presence of many Jews, most of whom were store owners; the presence of two synagogues; the arrival of German forces and shortly thereafter the rounding up of Jews and the shooting of some on the grounds of an old fortress; the further eastward movement of troops and the establishment of a local administration; the appointment of a "starosta" who had been a Ukrainian nationalist; German promises that Ukrainian police and other supporters would help Germans destroy the USSR; some details on the Ukrainian police; the establishment of a ghetto and the formation of a Judenrat and Jewish police; details on the ghetto; how Jews were brought to the ghetto from Grimayliv (Hrymaĭliv) and Pidvolochys'k, Ukraine; a series of "aktsiya," in which groups of Jews, beginning with older individuals were taken from the ghetto and shot; observing the assembly of the "aktsiya" victims on the town square, the collection of valuables, and the loading of Jews into trucks; the efforts of some Jews to flee, but the compliance of most; carrying off of furniture and dismantling of Jewish houses by local residents; the housing of surviving able-bodied Jewish men in a former Polish Army barracks from which they were marched to work in a nearby quarry; the subsequent killing of these Jews and the Jewish police who had accompanied them to the work site; and the retreat of some Ukrainian police along with German forces as the front moved west.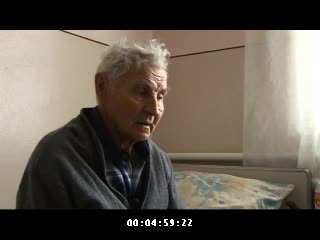 Date

interview: 2009 May 07


Geography

creation: Skalat (Ukraine)


Extent

1 compact disc.


Credit Line

United States Holocaust Memorial Museum Collection, Gift of Yahad-in Unum
Record last modified: 2021-01-06 16:13:42
This page: https://collections.ushmm.org/search/catalog/irn38922

Also in Yahad-in Unum oral history collection
Oral history interviews conducted in Ukraine, Russia, and Belarus by Yahad-in Unum.