Oral history interview with Norbertas Uziala
Oral History | Accession Number: 1998.A.0221.25 | RG Number: RG-50.473.0025
Norbertas Uziala, born in Svencioneliai, Lithuania, describes his work at the railway; the arrival of German forces; digging mass burial pits; seeing a column of people being taken toward the pits; a Lithuanian man bringing a Jewish woman and her child to the mass murder site; hearing gunfire from the mass execution; covering the burial pits; seeing piles of clothing and a carriage full of chemicals next to the burial pit; his knowledge that the perpetrators were Lithuanians; one perpetrator walking around the burial pit shooting any victim who was still alive; the presence of a photographer at the burial pit; fleeing the burial pit as he was chased by a policeman who attempted to shoot him; the drunkenness of the perpetrators; the perpetrators exchanging gold for alcohol; and the auction of the victims' clothing.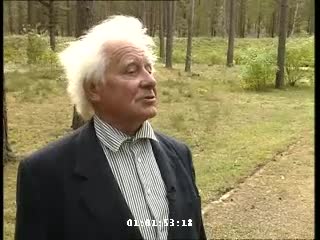 Interviewee

Norbertas Uziala

Interviewer

Saulius Berzinis

Date

interview: 1998 September 20


Geography

creation: Vilnius (Lithuania)


Language

Extent

1 videocasette (Betacam SP).


Credit Line

United States Holocaust Memorial Museum Collection, courtesy of the Jeff and Toby Herr Foundation
Record last modified: 2021-06-15 12:30:10
This page: https://collections.ushmm.org/search/catalog/irn508582

Also in Oral history interviews of the Lithuania Documentation Project
Oral history interviews of the United States Holocaust Memorial Museum's Lithuania Documentation Project.