Schluss damit! Arbeiten! Nicht Schwaetzen!
Object | Accession Number: 1990.333.32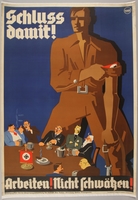 German propaganda poster designed by Künstlerbund, Karlsruhe A.G. and published by Gaupropagandaleitung Baden der NSDAP (District Baden Propaganda Line of the NSDAP) in 1934. The poster was designed O. Rinne, possibly a pseudonym for German Art Deco artist, Felix Rinne. The poster shows an oversized man wearing the shirt, jodhpurs, and armband from a Nazi Sturmabteilung (SA) uniform preparing to confront a group of affluent men at a table decorated with a Nazi banner. He is rolling up his sleeves and getting ready to work, while the men are leisurely talking at the table instead of working. In addition to printing posters during World War II, Künstlerbund, Karlsruhe A.G. printed maps for the German military.


Alternate Title

Stop it! Work! Don't chat!

Date

1934


Geography

publication: Germany


Language

Classification

Category

Object Type

Genre/Form

Credit Line

United States Holocaust Memorial Museum Collection
Record last modified: 2021-02-10 08:51:09
This page: https://collections.ushmm.org/search/catalog/irn3743

Also in German poster collection
The collection consists of anti-Semitic, advertising, and political posters, and a pair of shoes worn in Buchenwald concentration camp.