Ein merkwürdiger katholischer Bischof...
Object | Accession Number: 1990.333.47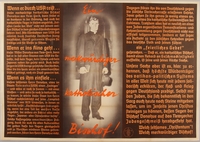 German propaganda poster, likely issued the week of January 19 to January 25, 1939, from the Parole der Woche (Word of the Week) series. This poster depicts a picture of Bishop Stephan Donahue, an auxiliary bishop of the Catholic Archdiocese of New York. Donahue was one of several American religious leaders to openly rebuke the Nazis for their persecution of Jews and other groups. The German text criticizes the United States for its discrimination against African and Asian Americans, and implies that Donahue is a hypocrite for not rebuking these policies as well. The text also reminds the reader of the antisemitic myth of Jewish deicide, the belief that Jews are collectively responsible for Christ's death, and implies that the views of Donahue and the American Catholic leaders may be influenced by Jews. The relationship between the Nazi party and religion was complex. Initially, the Party was not openly hostile to the Protestant and Catholic Churches; however, the Party believed that Christianity and Nazism were ideologically incompatible. The Nazi government signed a Concordat with the Vatican, stating it would recognize the Nazi regime, which would in turn would not interfere in the Catholic Church. However, the Concordat was broken by the Nazis with the passage of anti-religious policies to undermine the church's influence in 1935. The first Word of the Week Series of posters (also referred to as Wandzeitung, or wall newspapers), were distributed on March 16, 1936. The series used colorful, often derogatory caricatures, and photorealistic images with vibrant language to target political adversaries, Jews, Communists, and Germany's enemies during the war. The series was discontinued in 1943.


Alternate Title

Strange Catholic Bishop
Word of the Week

Series Title

Parole der Woche

Date

publication/distribution: 1939


Geography

publication: Munich (Germany)
distribution: Germany


Language

Classification

Category

Object Type

Genre/Form

Credit Line

United States Holocaust Memorial Museum Collection
Record last modified: 2021-02-10 09:46:10
This page: https://collections.ushmm.org/search/catalog/irn3759

Also in German poster collection
The collection consists of anti-Semitic, advertising, and political posters, and a pair of shoes worn in Buchenwald concentration camp.