Das Dritte Reich!
Object | Accession Number: 1990.333.4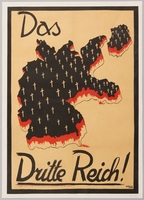 Anti-Nazi political poster from the 1932 German federal elections. The poster depicts Germany bleeding and covered in crosses, implying if the Nazis gained power, their systems of violence and intimidation would cause Germany and its people to suffer. By June 1932, Germany was deep in the throes of the Great Depression, with six million unemployed. This economic distress contributed to a rise in the popularity of the Nazi Party who along with the Communist Party and the Social Democrats, were the most popular political parties in Germany. The Social Democrats ran on a platform of maintaining freedom, democracy and the Republic, honoring Germany's political and financial obligations, job creation, governmental expenditure cuts to lower taxes, and free speech. When Germany held parliamentary elections in July of that year, the Nazi party won almost 40 percent of the electorate in the Reichstag to become the largest party in German parliament. However Adolf Hitler and the Nazi Party failed to defeat incumbent Social Democratic President Paul von Hindenburg in the presidential election. With the backing of his majority party, Hitler was appointed Chancellor on January 30, 1933.


Alternate Title

The Third Empire!

Date

publication/distribution: 1932


Geography

manufacture: Berlin (Germany)
depiction: Germany


Language

Classification

Category

Object Type

Credit Line

United States Holocaust Memorial Museum Collection
Record last modified: 2021-02-10 09:10:02
This page: https://collections.ushmm.org/search/catalog/irn3751

Also in German poster collection
The collection consists of anti-Semitic, advertising, and political posters, and a pair of shoes worn in Buchenwald concentration camp.